If you missed the news, recently President Nursultan Nazarbayev announced that Kazakhstan will fully transition from Cyrillic to Latin letters by 2025. I'm writing this post in response. As my good friend Maktaxali taught me, we often find that "The caravan has left but the dogs are still barking". In the matter of writing the Kazakh language using the Latin script, I find myself adding to the "howls".
The Formal and Informal Latin scripts
I know that the "caravan has left" however, I propose an improved Kazakh Latin Script in two variants Formal (Kara) and Informal (Kiswi). The proposed Formal (Kara) Latin script is suitable for newspapers, the web, and books. While dropping the ' altogether, gives the Informal (Kiswi) Latin script which is suitable for SMS, apps, and mobile devices.
Here is an example: The Qazaq national verse "Kozimning qarasi (video)" by Abay Kuwnanbaev using the approved Qazaqstan Latin and Cyrillic scripts; and the proposed Formal (Kara) and Informal (Kiswi) Latin scripts.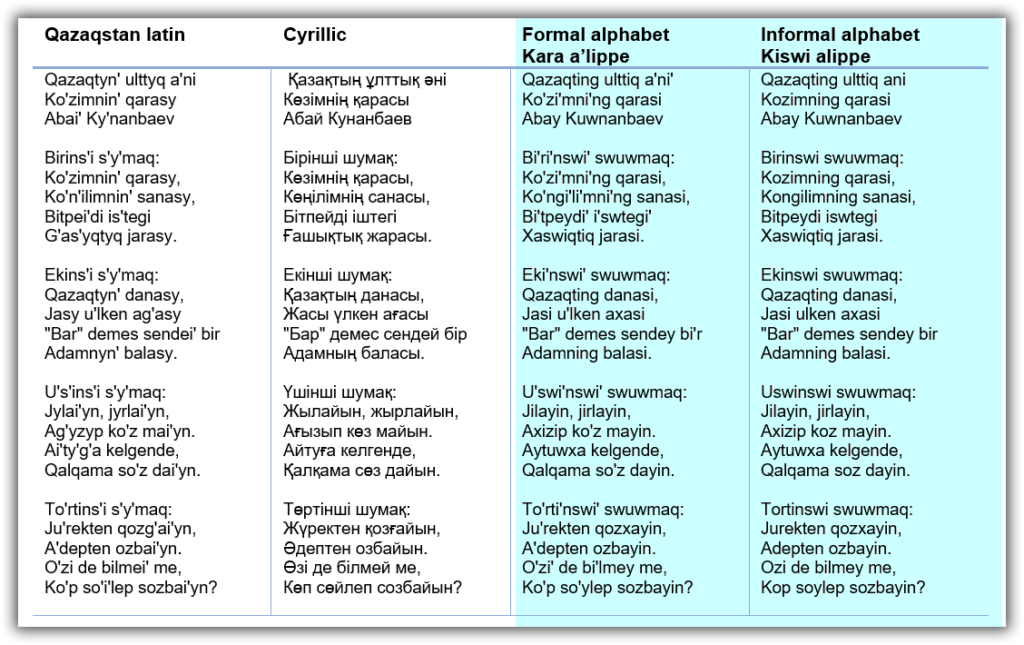 Below there is a Qazaq Cyrillic to Kara and Kiswi alippe translation table, but first, here is an explanation of the proposed scripts.
Background
After living in Kazakhstan for nearly 20 years, and as a Kazakh language speaker, my interest in this topic goes back a long way.  In 1990, I prepared a guide to the Kazakh language for English speakers called "Kazakh Notes". This guide helps language learners master the consonant and vowel harmonies underlying the spoken and written forms of Kazakh language words.  Learning, speaking and promoting  Kazakh language learning is an abiding interest of mine.
Goals
Build on same philosophy as the official Qazaqstan Latin script.
Improve the visual aesthetic by reducing reliance on '.
Make the written form more closely reflect vowel harmony.
Reduce the number of digraphs required.
Provide a simplified form of the script for use in apps and mobile devices where the  ' character is not permitted, or desirable.
Approach
Drop the ' used for "Ғ" and handle the back consonants "Қ, Ғ" uniformly as single characters (as "Q, X" since "X" is unused).
Drop the ' where the base letter is not used alone, for "Ч" (as "C").
Base the written form of the vowel pair "І/ Ы", on the same Latin letter (as " I'/I ").
Use ' uniformly to indicate the "jingiswke" vowels  "Ә, Ө, Ү, І" (as " A', O', U', I' ").
Use ' only to distinguish vowel pairs "Ә/А, Ө/ О, Ү/ Ұ, І/ Ы".
Create two of the required consonant digraphs with the unused"w" rather than '.

 "Ш" as "Sw", and
"У" as "Uw"

And use the 'natural' digraph for "Ң" (as "Ng").
Proposed Latin alphabet with Formal and Informal variants
The above changes have reduced the required digraphs from 10 to 7, and in the Informal Latin script only 3 digraphs are required!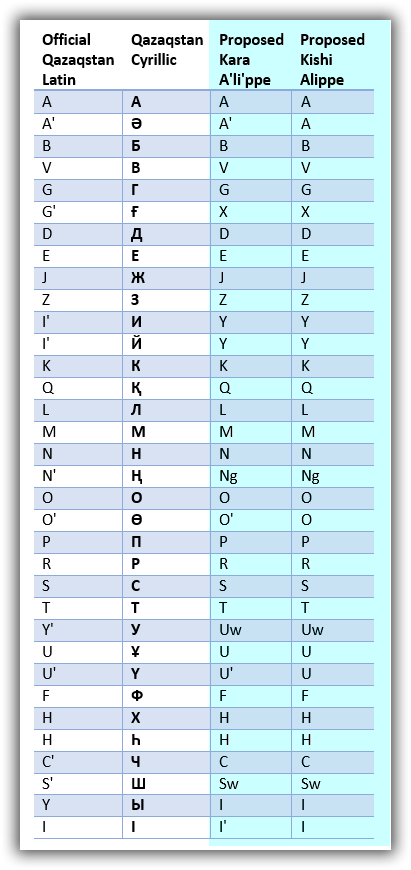 Qazaq Cyrillic – Kara and Kiswi alippe translation
Here are a list of common Qazaq words from here and their translation into the Kara and Kiswi alippe.
| | | |
| --- | --- | --- |
| Qazaq Cyrillic | Kara alippe | Kiswi alippe |
| а | a | a |
| аға | axa | axa |
| ағаш | axasw | axasw |
| ағымдағы | aximdaxi | aximdaxi |
| ағыны | axini | axini |
| адам | adam | adam |
| адамдар | adamdar | adamdar |
| ажыратылған | ajiratilxan | ajiratilxan |
| аздау | azdauw | azdauw |
| ай | ay | ay |
| айқайлау | ayqaylauw | ayqaylauw |
| айқын | ayqin | ayqin |
| аймақ | aymaq | aymaq |
| айтты | aytti | aytti |
| айту | aytuw | aytuw |
| айыппұл | ayippul | ayippul |
| аккорд | akkord | akkord |
| акт | akt | akt |
| ақ | aq | aq |
| ақша | aqswa | aqswa |
| ақыл | aqil | aqil |
| алға | alxa | alxa |
| алғыс айту | alxis aytuw | alxis aytuw |
| алды | aldi | aldi |
| алдыңғы | aldingxi | aldingxi |
| алма | alma | alma |
| алты | alti | alti |
| алтын | altin | altin |
| алу | aluw | aluw |
| алыс | alis | alis |
| ана | ana | ana |
| ана жерде | ana jerde | ana jerde |
| анық | aniq | aniq |
| анықтау | aniqtauw | aniqtauw |
| аңғар | angxar | angxar |
| аңшылық | angswiliq | angswiliq |
| апта | apta | apta |
| ара | ara | ara |
| арал | aral | aral |
| араластыру | aralastiruw | aralastiruw |
| арасында | arasinda | arasinda |
| арқан | arqan | arqan |
| арқылы | arqili | arqili |
| арман | arman | arman |
| арнаулы | arnauwli | arnauwli |
| артқа | artqa | artqa |
| артында | artinda | artinda |
| аспаз | aspaz | aspaz |
| аспан | aspan | aspan |
| аспап | aspap | aspap |
| астында | astinda | astinda |
| асығу | asixuw | asixuw |
| ат | at | at |
| ата-аналар | ata-analar | ata-analar |
| атақты | ataqti | ataqti |
| атом | atom | atom |
| ауа | auwa | auwa |
| ауа райы | auwa rayi | auwa rayi |
| аудан | auwdan | auwdan |
| ауқымды | auwqimdi | auwqimdi |
| аула | auwla | auwla |
| аулау | auwlauw | auwlauw |
| ауыз | auwiz | auwiz |
| ауыл | auwil | auwil |
| ауыр | auwir | auwir |
| ауыстыру | auwistiruw | auwistiruw |
| ашу | aswuw | aswuw |
| ашық | aswiq | aswiq |
| аю | ayuw | ayuw |
| аяқ | ayaq | ayaq |
| аяқталған | ayaqtalxan | ayaqtalxan |
| әбден | a'bden | abden |
| әдемі | a'demi' | ademi |
| әдеттегі | a'dettegi' | adettegi |
| әділ | a'di'l | adil |
| әдіс | a'di's | adis |
| әзірлеу | a'zi'rleuw | azirleuw |
| әйел | a'yel | ayel |
| әйелдер | a'yelder | ayelder |
| әке | a'ke | ake |
| әкелді | a'keldi' | akeldi |
| әкелу | a'keluw | akeluw |
| әлем | a'lem | alem |
| ән | a'n | an |
| ән салу | a'n saluw | an saluw |
| әңгіме | a'nggi'me | anggime |
| әр түрлі | a'r tu'rli' | ar turli |
| әрбір | a'rbi'r | arbir |
| әрекет | a'reket | areket |
| әрқашан | a'rqaswan | arqaswan |
| әсер | a'ser | aser |
| әсіресе | a'si'rese | asirese |
| әуен | a'uwen | auwen |
| база | baza | baza |
| базар | bazar | bazar |
| бай | bay | bay |
| байқау | bayqauw | bayqauw |
| байланысты | baylanisti | baylanisti |
| бақ | baq | baq |
| бақылау | baqilauw | baqilauw |
| бақытты | baqitti | baqitti |
| бала | bala | bala |
| балалар | balalar | balalar |
| балық | baliq | baliq |
| банк | bank | bank |
| бар | bar | bar |
| барды | bardi | bardi |
| барлық | barliq | barliq |
| бару | baruw | baruw |
| бас | bas | bas |
| басқа | basqa | basqa |
| басқарма | basqarma | basqarma |
| басқару | basqaruw | basqaruw |
| баспасөз | baspaso'z | baspasoz |
| баста | basta | basta |
| бастады | bastadi | bastadi |
| бастап | bastap | bastap |
| бастау | bastauw | bastauw |
| басты | basti | basti |
| басу | basuw | basuw |
| басыңыз | basingiz | basingiz |
| батыс | batis | batis |
| баяу | bayauw | bayauw |
| бейнелеу | beyneleuw | beyneleuw |
| белгі | belgi' | belgi |
| берді | berdi' | berdi |
| беру | beruw | beruw |
| бес | bes | bes |
| бет | bet | bet |
| беті | beti' | beti |
| би | by | by |
| биттік | bytti'k | byttik |
| биік | byi'k | byik |
| блок | blok | blok |
| бойынша | boyinswa | boyinswa |
| болады | boladi | boladi |
| болат | bolat | bolat |
| болды | boldi | boldi |
| болу | boluw | boluw |
| болуы | boluwi | boluwi |
| болып табылады | bolip tabiladi | bolip tabiladi |
| бос емес | bos emes | bos emes |
| бояу | boyauw | boyauw |
| бөлме | bo'lme | bolme |
| бөлу | bo'luw | boluw |
| бөлім | bo'li'm | bolim |
| бу | buw | buw |
| бұл | bul | bul |
| бұлт | bult | bult |
| бұрылу | buriluw | buriluw |
| бұрын | burin | burin |
| бұрыш | burisw | burisw |
| бүтін | bu'ti'n | butin |
| біз | bi'z | biz |
| бізді | bi'zdi' | bizdi |
| біздің | bi'zdi'ng | bizding |
| білген | bi'lgen | bilgen |
| білдіреді | bi'ldi'redi' | bildiredi |
| білу | bi'luw | biluw |
| бір | bi'r | bir |
| бір рет | bi'r ret | bir ret |
| бірақ | bi'raq | biraq |
| бірге | bi'rge | birge |
| бірдей | bi'rdey | birdey |
| бірлік | bi'rli'k | birlik |
| бірнеше | bi'rneswe | birneswe |
| бірінші | bi'ri'nswi' | birinswi |
| газ | gaz | gaz |
| галстук | galstuwk | galstuwk |
| гид | gyd | gyd |
| гол | gol | gol |
| градус | graduws | graduws |
| гүл | gu'l | gul |
| ғарыш | xarisw | xarisw |
| ғасыр | xasir | xasir |
| ғылым | xilim | xilim |
| дайын | dayin | dayin |
| дақ | daq | daq |
| даму | damuw | damuw |
| дауыс | dauwis | dauwis |
| дауыссыз дыбыс | dauwissiz dibis | dauwissiz dibis |
| дауысты | dauwisti | dauwisti |
| дәл | da'l | dal |
| дәлелдеу | da'leldeuw | daleldeuw |
| дән | da'n | dan |
| дәрігер | da'ri'ger | dariger |
| де | de | de |
| дегенмен | degenmen | degenmen |
| деді | dedi' | dedi |
| дейін | deyi'n | deyin |
| демалыс | demalis | demalis |
| дене | dene | dene |
| деңгей | denggey | denggey |
| деп жазды | dep jazdi | dep jazdi |
| диапазон | dyapazon | dyapazon |
| диск | dysk | dysk |
| доллар | dollar | dollar |
| доп | dop | dop |
| дос | dos | dos |
| дөңгелек | do'nggelek | donggelek |
| дұрыс | duris | duris |
| дүкен | du'ken | duken |
| дыбыс | dibis | dibis |
| дюймдік | dyuwymdi'k | dyuwymdik |
| егер | eger | eger |
| еден | eden | eden |
| еді | edi' | edi |
| екеуі де | ekeuwi' de | ekeuwi de |
| екі | eki' | eki |
| ел | el | el |
| елестету | elestetuw | elestetuw |
| емес болады | emes boladi | emes boladi |
| емле | emle | emle |
| ең жақсы | eng jaqsi | eng jaqsi |
| ереже | ereje | ereje |
| ерекше | erekswe | erekswe |
| ерлер | erler | erler |
| ермек | ermek | ermek |
| ерте | erte | erte |
| ерік | eri'k | erik |
| ескерту | eskertuw | eskertuw |
| ескі | eski' | eski |
| есте сақтау | este saqtauw | este saqtauw |
| естідім | esti'di'm | estidim |
| есік | esi'k | esik |
| ет | et | et |
| етістік | eti'sti'k | etistik |
| ешқашан да | eswqaswan da | eswqaswan da |
| ештеңе | eswtenge | eswtenge |
| жабайы | jabayi | jabayi |
| жабдықтау | jabdiqtauw | jabdiqtauw |
| жаға | jaxa | jaxa |
| жағдай | jaxday | jaxday |
| жаз | jaz | jaz |
| жазбаша | jazbaswa | jazbaswa |
| жазу | jazuw | jazuw |
| жақсы | jaqsi | jaqsi |
| жақсырақ | jaqsiraq | jaqsiraq |
| жақын | jaqin | jaqin |
| жалғастыру | jalxastiruw | jalxastiruw |
| жалғыз | jalxiz | jalxiz |
| жалпы | jalpi | jalpi |
| жаман | jaman | jaman |
| жанасу | janasuw | janasuw |
| жануар | januwar | januwar |
| жанында | janinda | janinda |
| жаңа | janga | janga |
| жаңбыр | jangbir | jangbir |
| жарғанат | jarxanat | jarxanat |
| жарты | jarti | jarti |
| жарық диодты индикатор | jariq dyodti yndykator | jariq dyodti yndykator |
| жас | jas | jas |
| жасады | jasadi | jasadi |
| жасайды | jasaydi | jasaydi |
| жасау | jasauw | jasauw |
| жасуша | jasuwswa | jasuwswa |
| жасыл | jasil | jasil |
| жаттығу | jattixuw | jattixuw |
| жау | jauw | jauw |
| жауап | jauwap | jauwap |
| жәндік | ja'ndi'k | jandik |
| жеке | jeke | jeke |
| жел | jel | jel |
| жем | jem | jem |
| жеміс | jemi's | jemis |
| жеңіл | jengi'l | jengil |
| жеңілдік | jengi'ldi'k | jengildik |
| жеңіс | jengi's | jengis |
| жер | jer | jer |
| жеткілікті | jetki'li'kti' | jetkilikti |
| жету | jetuw | jetuw |
| жеті | jeti' | jeti |
| жеу | jeuw | jeuw |
| жинау | jynauw | jynauw |
| жиырма | jyirma | jyirma |
| жиі | jyi' | jyi |
| жобалау | jobalauw | jobalauw |
| жоғалған | joxalxan | joxalxan |
| жоғары | joxari | joxari |
| жоқ | joq | joq |
| жол | jol | jol |
| жорамал | joramal | joramal |
| жоспар | jospar | jospar |
| журнал | juwrnal | juwrnal |
| жуу | juwuw | juwuw |
| жұқа | juqa | juqa |
| жұлдыз | juldiz | juldiz |
| жұмсақ | jumsaq | jumsaq |
| жұмсауға | jumsauwxa | jumsauwxa |
| жұмыртқа | jumirtqa | jumirtqa |
| жұмыс | jumis | jumis |
| жұп | jup | jup |
| жұрнақ | jurnaq | jurnaq |
| жүгіру | ju'gi'ruw | jugiruw |
| жүз | ju'z | juz |
| жүзеге | ju'zege | juzege |
| жүзу | ju'zuw | juzuw |
| жүзік | ju'zi'k | juzik |
| жүйе | ju'ye | juye |
| жүк көлігі | ju'k ko'li'gi' | juk koligi |
| жүрек | ju'rek | jurek |
| жүру | ju'ruw | juruw |
| жыл | jil | jil |
| жылау | jilauw | jilauw |
| жылдам | jildam | jildam |
| жылдамдық | jildamdiq | jildamdiq |
| жылқы | jilqi | jilqi |
| жылтыр | jiltir | jiltir |
| жылы | jili | jili |
| жіберу | ji'beruw | jiberuw |
| жіберілген | ji'beri'lgen | jiberilgen |
| Жоғарыда | Joxarida | Joxarida |
| заң | zang | zang |
| зат | zat | zat |
| зат есім | zat esi'm | zat esim |
| иә | ya' | ya |
| идея | ydeya | ydeya |
| ит | yt | yt |
| иық | yiq | yiq |
| иіс | yi's | yis |
| капитал | kapytal | kapytal |
| капитан | kapytan | kapytan |
| карта | karta | karta |
| кафедра | kafedra | kafedra |
| кәртішке | ka'rti'swke | kartiswke |
| кедей | kedey | kedey |
| кез келген | kez kelgen | kez kelgen |
| кездейсоқтық | kezdeysoqtiq | kezdeysoqtiq |
| кездестіру | kezdesti'ruw | kezdestiruw |
| кезең | kezeng | kezeng |
| кейбір | keybi'r | keybir |
| кейін | keyi'n | keyin |
| кейінгі | keyi'ngi' | keyingi |
| кейіпкер | keyi'pker | keyipker |
| келді | keldi' | keldi |
| келеді | keledi' | keledi |
| келесі | kelesi' | kelesi |
| келу | keluw | keluw |
| келісу | keli'suw | kelisuw |
| кем дегенде | kem degende | kem degende |
| кеме | keme | keme |
| кенет | kenet | kenet |
| кең | keng | keng |
| кеңсе | kengse | kengse |
| керек | kerek | kerek |
| керемет | keremet | keremet |
| кесек | kesek | kesek |
| кескін | keski'n | keskin |
| кесте | keste | keste |
| кесу | kesuw | kesuw |
| кеткен | ketken | ketken |
| кеш | kesw | kesw |
| киіндіру | kyi'ndi'ruw | kyindiruw |
| кию | kyyuw | kyyuw |
| колонна | kolonna | kolonna |
| команда | komanda | komanda |
| компания | kompanyya | kompanyya |
| костюм | kostyuwm | kostyuwm |
| көбейту | ko'beytuw | kobeytuw |
| көбінесе | ko'bi'nese | kobinese |
| көбірек | ko'bi'rek | kobirek |
| көз | ko'z | koz |
| көйлек | ko'ylek | koylek |
| көк | ko'k | kok |
| көктем | ko'ktem | koktem |
| көл | ko'l | kol |
| көмектесіңіздер | ko'mektesi'ngi'zder | komektesingizder |
| көп | ko'p | kop |
| көптеген | ko'ptegen | koptegen |
| көптік | ko'pti'k | koptik |
| көрсету | ko'rsetuw | korsetuw |
| көру | ko'ruw | koruw |
| көрші | ko'rswi' | korswi |
| көрінуі | ko'ri'nuwi' | korinuwi |
| көрініс | ko'ri'ni's | korinis |
| көтеру | ko'teruw | koteruw |
| көтерілу | ko'teri'luw | koteriluw |
| көше | ko'swe | koswe |
| көшірме | ko'swi'rme | koswirme |
| крест | krest | krest |
| курс | kuwrs | kuwrs |
| күз | ku'z | kuz |
| күйік | ku'yi'k | kuyik |
| күлкі | ku'lki' | kulki |
| күлімсіреу | ku'li'msi'reuw | kulimsireuw |
| күміс | ku'mi's | kumis |
| күн | ku'n | kun |
| күту | ku'tuw | kutuw |
| күш | ku'sw | kusw |
| күшті | ku'swti' | kuswti |
| кілт | ki'lt | kilt |
| кім | ki'm | kim |
| кімнің | ki'mni'ng | kimning |
| кіру | ki'ruw | kiruw |
| кітап | ki'tap | kitap |
| кішкентай | ki'swkentay | kiswkentay |
| қабылдау | qabildauw | qabildauw |
| қабырға | qabirxa | qabirxa |
| қабыршақ | qabirswaq | qabirswaq |
| қабілетті | qabi'letti' | qabiletti |
| қағаз | qaxaz | qaxaz |
| қадақ | qadaq | qadaq |
| қадам | qadam | qadam |
| қажет | qajet | qajet |
| қазір | qazi'r | qazir |
| қазіргі | qazi'rgi' | qazirgi |
| қазіргі заманғы | qazi'rgi' zamanxi | qazirgi zamanxi |
| қай | qay | qay |
| қайда | qayda | qayda |
| қайтадан | qaytadan | qaytadan |
| қайталау | qaytalauw | qaytalauw |
| қайық | qayiq | qayiq |
| қақпақ | qaqpaq | qaqpaq |
| қала | qala | qala |
| қалай | qalay | qalay |
| қалдыру | qaldiruw | qaldiruw |
| қалың | qaling | qaling |
| қалып | qalip | qalip |
| қамқорлық | qamqorliq | qamqorliq |
| қамтамасыз ету | qamtamasiz etuw | qamtamasiz etuw |
| қамтиды | qamtydi | qamtydi |
| қан | qan | qan |
| қанат | qanat | qanat |
| қант | qant | qant |
| қар | qar | qar |
| қара | qara | qara |
| қарағанда | qaraxanda | qaraxanda |
| қарай | qaray | qaray |
| қарама-қарсы | qarama-qarsi | qarama-qarsi |
| қараңғы | qarangxi | qarangxi |
| қарапайым | qarapayim | qarapayim |
| қарау | qarauw | qarauw |
| қарсы | qarsi | qarsi |
| қарындас | qarindas | qarindas |
| қатар | qatar | qatar |
| қате | qate | qate |
| қатты | qatti | qatti |
| қауіп | qauwi'p | qauwip |
| қауіпсіз | qauwi'psi'z | qauwipsiz |
| қашан | qaswan | qaswan |
| қимылсыз | qymilsiz | qymilsiz |
| қиын | qyin | qyin |
| қиыншылық | qyinswiliq | qyinswiliq |
| қозғалтқыш | qozxaltqisw | qozxaltqisw |
| қозғалыс | qozxalis | qozxalis |
| қоздыру | qozdiruw | qozdiruw |
| қойма | qoyma | qoyma |
| қол | qol | qol |
| қолдау | qoldauw | qoldauw |
| қоңыр | qongir | qongir |
| қоңырау | qongirauw | qongirauw |
| қорап | qorap | qorap |
| қорғасын | qorxasin | qorxasin |
| қорғау | qorxauw | qorxauw |
| қорқады | qorqadi | qorqadi |
| қорқыныш | qorqinisw | qorqinisw |
| қос | qos | qos |
| қоспағанда | qospaxanda | qospaxanda |
| қосу | qosuw | qosuw |
| қосылу | qosiluw | qosiluw |
| қою | qoyuw | qoyuw |
| қуаныш | quwanisw | quwanisw |
| қуанышты | quwaniswti | quwaniswti |
| құйрық | quyriq | quyriq |
| құл | qul | qul |
| құлақ | qulaq | qulaq |
| құм | qum | qum |
| құн | qun | qun |
| құны | quni | quni |
| құрады | quradi | quradi |
| құрғақ | qurxaq | qurxaq |
| құрылық | quriliq | quriliq |
| құс | qus | qus |
| құтқару | qutqaruw | qutqaruw |
| қыз бала | qiz bala | qiz bala |
| қызмет ету | qizmet etuw | qizmet etuw |
| қызығушылық | qizixuwswiliq | qizixuwswiliq |
| қызыл | qizil | qizil |
| қыртыстарды | qirtistardi | qirtistardi |
| қыс | qis | qis |
| қысқа | qisqa | qisqa |
| Қазақстан бойынша жүк тасымалдары | Qazaqstan boyinswa ju'k tasimaldari | Qazaqstan boyinswa juk tasimaldari |
| Құрметті | Qurmetti' | Qurmetti |
| лагерь | lagerь | lagerь |
| лақтыру | laqtiruw | laqtiruw |
| лезде | lezde | lezde |
| лязат | lyazat | lyazat |
| ма | ma | ma |
| магнит | magnyt | magnyt |
| маған | maxan | maxan |
| май | may | may |
| майор | mayor | mayor |
| мақта | maqta | maqta |
| масса | massa | massa |
| мастер | master | master |
| материал | materyal | materyal |
| матч | matc | matc |
| маусымы | mauwsimi | mauwsimi |
| махаббат | mahabbat | mahabbat |
| машина | maswyna | maswyna |
| мәміле | ma'mi'le | mamile |
| мәселе | ma'sele | masele |
| мейірімді | meyi'ri'mdi' | meyirimdi |
| мектеп | mektep | mektep |
| мемлекет | memleket | memleket |
| мен | men | men |
| меншік | menswi'k | menswik |
| менің | meni'ng | mening |
| мерзім | merzi'm | merzim |
| металл | metall | metall |
| миллион | myllyon | myllyon |
| миля | mylya | mylya |
| минут | mynuwt | mynuwt |
| мойын | moyin | moyin |
| молекуласы | molekuwlasi | molekuwlasi |
| мөлшері | mo'lsweri' | molsweri |
| музыка | muwzika | muwzika |
| мұз | muz | muz |
| мұқтаждық | muqtajdiq | muqtajdiq |
| мұнай | munay | munay |
| мұнда | munda | munda |
| мұрын | murin | murin |
| мұхит | muhyt | muhyt |
| мүмкін | mu'mki'n | mumkin |
| мүмкіндік | mu'mki'ndi'k | mumkindik |
| мылтық | miltiq | miltiq |
| мың | ming | ming |
| мысал | misal | misal |
| мысық | misiq | misiq |
| міндетті | mi'ndetti' | mindetti |
| нан | nan | nan |
| нәресте | na'reste | nareste |
| нәрсе | na'rse | narse |
| нәсіл | na'si'l | nasil |
| нәтиже | na'tyje | natyje |
| не | ne | ne |
| неге | nege | nege |
| негізгі | negi'zgi' | negizgi |
| немесе | nemese | nemese |
| нөмір | no'mi'r | nomir |
| оған | oxan | oxan |
| оғаш | oxasw | oxasw |
| ой | oy | oy |
| ойлап | oylap | oylap |
| ойлау | oylauw | oylauw |
| ойын | oyin | oyin |
| оқиға | oqyxa | oqyxa |
| оқу | oquw | oquw |
| ол | ol | ol |
| олар | olar | olar |
| оларға | olarxa | olarxa |
| олардың | olarding | olarding |
| он | on | on |
| ондық | ondiq | ondiq |
| оның | oning | oning |
| оң | ong | ong |
| оңтүстік | ongtu'sti'k | ongtustik |
| орам | oram | oram |
| орган | organ | organ |
| орман | orman | orman |
| орналастыру | ornalastiruw | ornalastiruw |
| орнату | ornatuw | ornatuw |
| орта | orta | orta |
| ортақ | ortaq | ortaq |
| орталық | ortaliq | ortaliq |
| орын | orin | orin |
| орындаңыз | orindangiz | orindangiz |
| осы | osi | osi |
| осылай | osilay | osilay |
| осылайша | osilayswa | osilayswa |
| от | ot | ot |
| отар | otar | otar |
| отбасы | otbasi | otbasi |
| оттегі | ottegi' | ottegi |
| отыру | otiruw | otiruw |
| өз | o'z | oz |
| өзгерту | o'zgertuw | ozgertuw |
| өзгеріс | o'zgeri's | ozgeris |
| өзен | o'zen | ozen |
| өзін-өзі | o'zi'n-o'zi' | ozin-ozi |
| өлең | o'leng | oleng |
| өлтіру | o'lti'ruw | oltiruw |
| өлу | o'luw | oluw |
| өлшеу | o'lsweuw | olsweuw |
| өлі | o'li' | oli |
| өлім | o'li'm | olim |
| өмір | o'mi'r | omir |
| өнер | o'ner | oner |
| өнеркәсіп | o'nerka'si'p | onerkasip |
| өнім | o'ni'm | onim |
| өрмелеу | o'rmeleuw | ormeleuw |
| өріс | o'ri's | oris |
| өсті | o'sti' | osti |
| өсу | o'suw | osuw |
| өсімдік | o'si'mdi'k | osimdik |
| өте | o'te | ote |
| өткен | o'tken | otken |
| өткір | o'tki'r | otkir |
| өту | o'tuw | otuw |
| өтінемін | o'ti'nemi'n | otinemin |
| өтірік | o'ti'ri'k | otirik |
| Өткізілген | O'tki'zi'lgen | Otkizilgen |
| пайда | payda | payda |
| пайда болу | payda boluw | payda boluw |
| пайдалану | paydalanuw | paydalanuw |
| пала | pala | pala |
| пальто | palьto | palьto |
| параграф | paragraf | paragraf |
| партия | partyya | partyya |
| патша | patswa | patswa |
| пән | pa'n | pan |
| планета | planeta | planeta |
| поезд | poezd | poezd |
| позиция | pozyцyya | pozyцyya |
| порт | port | port |
| практика | praktyka | praktyka |
| проблема | problema | problema |
| процесс | proцess | proцess |
| радио | radyo | radyo |
| раушан | rauwswan | rauwswan |
| рекорд | rekord | rekord |
| рельс | relьs | relьs |
| реттеуге | retteuwge | retteuwge |
| ретінде | reti'nde | retinde |
| руб | ruwb | ruwb |
| рұқсат ету | ruqsat etuw | ruqsat etuw |
| сағат | saxat | saxat |
| сағыну | saxinuw | saxinuw |
| сақталады | saqtaladi | saqtaladi |
| салқын | salqin | salqin |
| салмақ | salmaq | salmaq |
| салу | saluw | saluw |
| салыстыру | salistiruw | salistiruw |
| сан | san | san |
| санау | sanauw | sanauw |
| сапар | sapar | sapar |
| сары | sari | sari |
| сату | satuw | satuw |
| сатып | satip | satip |
| сатып алу | satip aluw | satip aluw |
| сауда | sauwda | sauwda |
| саусақ | sauwsaq | sauwsaq |
| саяхат | sayahat | sayahat |
| сәт | sa't | sat |
| себеп | sebep | sebep |
| сегмент | segment | segment |
| сегіз | segi'z | segiz |
| сезу | sezuw | sezuw |
| сезім | sezi'm | sezim |
| сезіндім | sezi'ndi'm | sezindim |
| секунд | sekuwnd | sekuwnd |
| секіру | seki'ruw | sekiruw |
| сену | senuw | senuw |
| сенімді | seni'mdi' | senimdi |
| серуен | seruwen | seruwen |
| символы | symvoli | symvoli |
| сипаттау | sypattauw | sypattauw |
| сиыр | syir | syir |
| сияқты | syyaqti | syyaqti |
| слог | slog | slog |
| соғыс | soxis | soxis |
| содан кейін | sodan keyi'n | sodan keyin |
| созу | sozuw | sozuw |
| соқпақ | soqpaq | soqpaq |
| сол | sol | sol |
| солдат | soldat | soldat |
| солтүстік | soltu'sti'k | soltustik |
| сондай | sonday | sonday |
| соңғы | songxi | songxi |
| соңды | songdi | songdi |
| соңы | songi | songi |
| сөз | so'z | soz |
| сөздік | so'zdi'k | sozdik |
| сөйлем | so'ylem | soylem |
| сөйлеу | so'yleuw | soyleuw |
| спица | spyцa | spyцa |
| станция | stanцyya | stanцyya |
| студент | stuwdent | stuwdent |
| су | suw | suw |
| сурет | suwret | suwret |
| сурет салу | suwret saluw | suwret saluw |
| сусын | suwsin | suwsin |
| суық | suwiq | suwiq |
| сұйық | suyiq | suyiq |
| сұлулық | suluwliq | suluwliq |
| сұр | sur | sur |
| сұрақ | suraq | suraq |
| сұрау | surauw | surauw |
| сүйек | su'yek | suyek |
| сүт | su't | sut |
| сызық | siziq | siziq |
| сым | sim | sim |
| сынақ | sinaq | sinaq |
| сынған | sinxan | sinxan |
| сынып | sinip | sinip |
| сыпайылық | sipayiliq | sipayiliq |
| сіздің | si'zdi'ng | sizding |
| Сб | Sb | Sb |
| Сондай-ақ, | Sonday-aq, | Sonday-aq, |
| Сіз | Si'z | Siz |
| табақ | tabaq | tabaq |
| табиғат | tabyxat | tabyxat |
| табиғи | tabyxy | tabyxy |
| табу | tabuw | tabuw |
| табылған | tabilxan | tabilxan |
| табыс | tabis | tabis |
| тағы | taxi | taxi |
| таза | taza | taza |
| талап | talap | talap |
| талқылау | talqilauw | talqilauw |
| талтүс | taltu's | taltus |
| тамақ | tamaq | tamaq |
| таң | tang | tang |
| таңдау | tangdauw | tangdauw |
| тапсырыс | tapsiris | tapsiris |
| тарап | tarap | tarap |
| тарату | taratuw | taratuw |
| тарихы | taryhi | taryhi |
| тармақ | tarmaq | tarmaq |
| тарт | tart | tart |
| тас | tas | tas |
| тастау | tastauw | tastauw |
| тау | tauw | tauw |
| таю | tayuw | tayuw |
| таяқ | tayaq | tayaq |
| тәжірибе | ta'ji'rybe | tajirybe |
| тегін | tegi'n | tegin |
| тегіс | tegi's | tegis |
| тез | tez | tez |
| тезірек | tezi'rek | tezirek |
| тек | tek | tek |
| тексеру | tekseruw | tekseruw |
| температура | temperatuwra | temperatuwra |
| темір | temi'r | temir |
| тең | teng | teng |
| теңестіру | tengesti'ruw | tengestiruw |
| теңіз | tengi'z | tengiz |
| терезе | tereze | tereze |
| терең | tereng | tereng |
| тері | teri' | teri |
| тесік | tesi'k | tesik |
| тобыр | tobir | tobir |
| тоғыз | toxiz | toxiz |
| тоқта | toqta | toqta |
| толқын | tolqin | tolqin |
| толтыру | toltiruw | toltiruw |
| толық | toliq | toliq |
| топ | top | top |
| топырақ | topiraq | topiraq |
| тосын | tosin | tosin |
| төбе | to'be | tobe |
| төбелес | to'beles | tobeles |
| төлем | to'lem | tolem |
| төлеу | to'leuw | toleuw |
| төмен | to'men | tomen |
| төменгі | to'mengi' | tomengi |
| төрт | to'rt | tort |
| төсек | to'sek | tosek |
| туған | tuwxan | tuwxan |
| тура | tuwra | tuwra |
| туралы | tuwrali | tuwrali |
| туфли | tuwfly | tuwfly |
| тұз | tuz | tuz |
| тұқым | tuqim | tuqim |
| тұрды | turdi | turdi |
| тұру | turuw | turuw |
| түбір | tu'bi'r | tubir |
| түзу | tu'zuw | tuzuw |
| түн | tu'n | tun |
| түпнұсқа | tu'pnusqa | tupnusqa |
| түрі | tu'ri' | turi |
| түс | tu's | tus |
| түтік | tu'ti'k | tutik |
| тыныш | tinisw | tinisw |
| тыңдау | tingdauw | tingdauw |
| тізім | ti'zi'm | tizim |
| тіл | ti'l | til |
| тілек | ti'lek | tilek |
| тіпті | ti'pti' | tipti |
| тірі | ti'ri' | tiri |
| тістері | ti'steri' | tisteri |
| Тоқсан | Toqsan | Toqsan |
| уақыт | uwaqit | uwaqit |
| ұзақ | uzaq | uzaq |
| ұзын бойлы | uzin boyli | uzin boyli |
| ұзындық | uzindiq | uzindiq |
| ұйықтау | uyiqtauw | uyiqtauw |
| ұқсас | uqsas | uqsas |
| ұл | ul | ul |
| ұлт | ult | ult |
| ұлы | uli | uli |
| ұрыс | uris | uris |
| ұстап | ustap | ustap |
| ұстау | ustauw | ustauw |
| ұсынамыз | usinamiz | usinamiz |
| ұсыну | usinuw | usinuw |
| ұшақ | uswaq | uswaq |
| үзіліс | u'zi'li's | uzilis |
| үй | u'y | uy |
| үйрек | u'yrek | uyrek |
| үйрену | u'yrenuw | uyrenuw |
| үйрету | u'yretuw | uyretuw |
| үлгі | u'lgi' | ulgi |
| үлес | u'les | ules |
| үлкен | u'lken | ulken |
| үміт | u'mi't | umit |
| үн | u'n | un |
| үрлеу | u'rleuw | urleuw |
| үстел | u'stel | ustel |
| үстінде | u'sti'nde | ustinde |
| үстінен | u'sti'nen | ustinen |
| үш | u'sw | usw |
| үшбұрыш | u'swburisw | uswburisw |
| үшін | u'swi'n | uswin |
| үшінші | u'swi'nswi' | uswinswi |
| ханым | hanim | hanim |
| хат | hat | hat |
| шақыру | swaqiruw | swaqiruw |
| шаршы | swarswi | swarswi |
| шахта | swahta | swahta |
| шаш | swasw | swasw |
| шеберлік | sweberli'k | sweberlik |
| шегеру | swegeruw | swegeruw |
| шеңбер | swengber | swengber |
| шешу | sweswuw | sweswuw |
| шешім | sweswi'm | sweswim |
| шина | swyna | swyna |
| шөл | swo'l | swol |
| шөп | swo'p | swop |
| шу | swuw | swuw |
| шыбын | swibin | swibin |
| шығару | swixaruw | swixaruw |
| шығыс | swixis | swixis |
| шын | swin | swin |
| шынайы | swinayi | swinayi |
| шыны | swini | swini |
| ықтимал | iqtymal | iqtymal |
| ыстық | istiq | istiq |
| іздеу | i'zdeuw | izdeuw |
| інжір | i'nji'r | injir |
| істемеу | i'stemeuw | istemeuw |
| істеу | i'steuw | isteuw |
| ішінде | i'swi'nde | iswinde |