I would like a Lifetime Postal Address (LPA) that I could give to the 50+ organisations that send me items in the post. I would be happy to pay Australia Post $100 per year for the opportunity to never have to change my postal address – ever.
Given the mobility of the Australian popupation, this is a marketing opportunity for Australia Post. Australian PO Box holders can get a similar service today by a/ renting a PO Box and then b/ paying for redirection. The LPA simplifies and streamlines the service.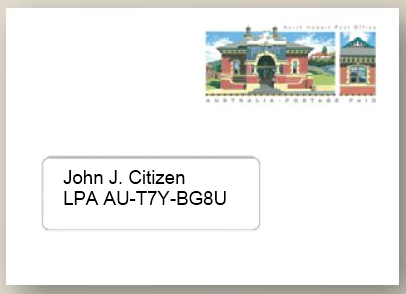 Here is a few more details on how this could work.
Subscribers update their actual delivery addresses, as often as necessary, at a secure website run by Australia Post
LPA's are globally unique
LPA's could be formed like airline booking references 6 alphanumeric digits.
The last character in an LPA is a check-character that ensures that different LPAs always differ by more than one character
If a LPA subscriber let their subscription lapse, then their mail is "Returned to Sender LPA not active"
Once allocated, LPA's are only returned to the available pool 20 years after they have lapsed.
LPA subscribers could be offered discounts on bundled PO Box rental
Addendum. The Lifetime Addressing Inc. was formed in 1998 to promote this idea.